High Five can offer potential Clients and Customers a great service from our Painting & Decorating Division. We are a "One Stop Shop" for both Contractors and Private individuals who want to renovate or repair their properties be they residential or commercial.
Because we solve so many problems with the facades and exteriors of Buildings in terms of Brick, Stone Concrete etc it became a natural progression as more and more customers were asking for this service. Assembling a highly skilled team of tradesmen we can deal with all surfaces either external or internal. We can offer you advice on the best materials for your particular Project to ensure that the end result leaves your neighbours envious. Perhaps you are starting a new business or relaunching at new premises and want to give your HQ a lift. We have always enjoyed a close relationship with Keim Mineral Paints and have been applying their amazing colour fast and UV stable coatings for several years to many properties.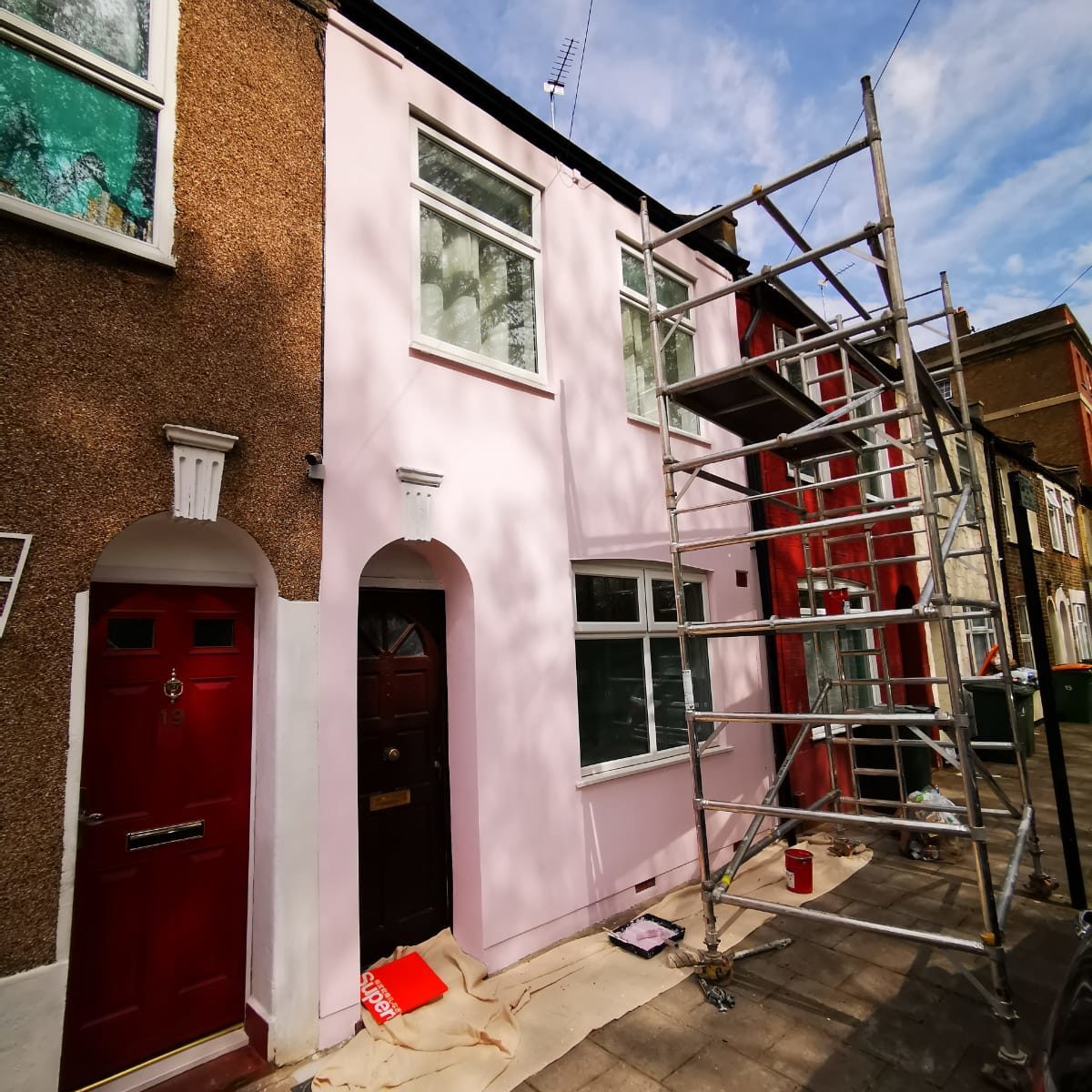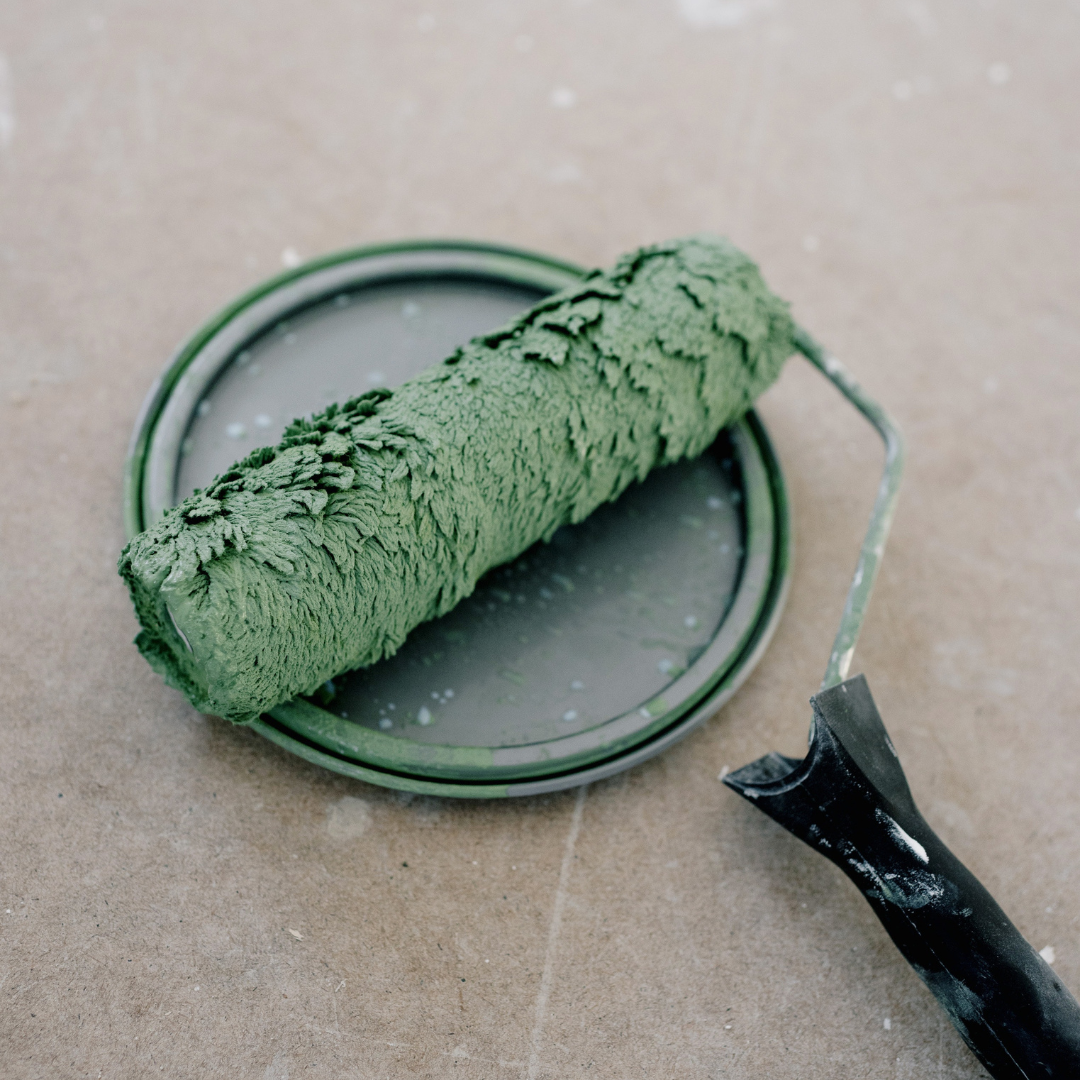 We can even offer a paint technology now that is "self cleaning" and needless to say all these options are Environmentally performing, so important a consideration today. Keim coatings applied by us come with a 10 year Warranty. We can supply all the access solutions to carry out the works be it scaffolding or powered and mobile access and our team have all the appropriate training certificates. We have a specialist team for applying spray-applied coatings to any specification including fire protection to steelwork. Maybe you might want to step outside the zone and consider changing your Buildings appearance by going "Metallic" with a new range of external masonry coatings that give a genuine metallic appearance. Weather Internal or External we are at hand to brighten up your world.
Chris and his team have done a great job on a complex project refurbishing defective render, decorating with Keim paint, metal spraying and balcony flooring. Careful good quality workmanship and attention to detail.
Chris and his team at High Five Construction were great to work with. We couldn't recommend them enough. Chris was quick to reply and come to check the job - our cracked front entrance steps were a real mess but now perfectly fixed and looking great. Very reasonable price too
Really pleased with the work that High five have done on the crumbling steps on our 1930s maisonette. The structural and cosmetic work has transformed the steps and they carried out the work quickly and efficiently as agreed.
I needed some concrete work done to a parapet wall and found High Five online. Communication was easy and clear which continued through to the site visit where Chris, the boss, explained how he'd improve the initial design I had and agreed a schedule that would fit with other works I had going on. His quote was very close to what I wanted to pay which in the end turned out to be very good value because the job was undertaken quickly and efficiently by a very professional, trustworthy and knowledgeable team. I've since learned about the wide range of building jobs High Five can undertake and will be getting them back for more specialist exterior plasterwork in the near term. What more could you want from a contractor. I wouldn't hesitate to speak to High Five about any kind of building job i need in future.
I used High five Construction ltd for the repair to stone step masonry on my property. The service provided was detailed and professional. I dealt with Chris who was personable and easy to contact whenever i had questions relating to the works being carried out. They completed the works in good time and provided me with a guarantee. If you want high quality works done to your property then i highly recommend using high five. 5 stars for professionalism, quality of work and customer service.
Vincent Thomas
2021-05-18
From their attention to detail when first assessing the work through to the successful conclusion of the structural concrete repair we required at home, the professional approach of the Hi5 team and their demonstrated, specialist expertise has given every confidence. This wasn't a big job for Hi5, but we still received a comprehensive, attentive and timely service. Prompt; easy to communicate with; scrupulously clean and tidy; considerate of our needs and those of the neighbours, we found the whole experience very easy. Plus a 10 year guarantee, what's not to like!
Highly recommended, first class finish, excellent advice and value for money. We look forward to working with you again Marc Smith Corniche Construction Ltd
I contacted High Five construction desperate for help to repair an issue with my concrete floor created by another tradesman. Chris was incredibly knowledgeable he spent over half an hour on the phone sharing advice and suggestions he went above and beyond to try and ensure I had the best possible advice and options with regards to repairing the damage. He was insistent he would come and look and came within 24 hours to look at the issue as he was adamant he didn't want me to waste extra money having the whole thing re-laid if it was salvageable. His whole manner was professional and caring and I am incredibly grateful to have found such an honest hardworking dependable tradesman I will be using in any future work as well as sharing him and his team to all friends and colleagues who need this type of work. Thank you so much, Victoria
Matthew Koichi Grimes
2020-07-04
Our Victorian home has a bay window whose roof and front facade had started leaking rainwater. We sought quotes from three vendors, and while High Five had the highest price, we went with them anyway. This was because their surveyor had provided both the most detailed assessment of the problem and solution, and unlike the others, they provided a 10 year warranty. When the scaffolders (a subcontracted firm) accidentally damaged our front staircase, High Five were happy to repair it. Furthermore, when we sought to add to the works a minor unrelated repair to the trash area's drainage, they offered to throw it in for free. All works were done to an attractive standard, and all the men from the surveyor to the work crew were nothing but professional and courteous. If I had to mention one nit, it was that communication via email could be spotty. The responsiveness over the phone and WhatsApp more than made up for it however. Would hire again.
Bibi Pearce Johnson
2020-06-09
We were first time buyers who took on a mid terraced house in east London that had not been shown any TLC for many years. We'd had a nightmare survey and needed help to put a few things right urgently. We engaged with High Five shortly before Christmas 2019. At that point, we did not own the house, but they were patient and kept in touch. We did the first site visit the day after we completed and got the keys. High Five completely transformed the front façade of the property and it was a huge relief to know they'd reinstated its structural stability as well as making it look a million dollars. The crew were professional, efficient and skilful and their site management was top drawer - they left it immaculate after each day. It was therefore a no-brainer to ask High Five to come back and help us install an RSJ and further secure our internal structure following the removal of a load-bearing wall some 25 years or so ago. It was a tricky job not helped by the global pandemic making supplies and engineering advice harder to coordinate than usual, but once again they nailed it and we're delighted with the results. Managing to find a demonstrably professional and highly skilled team of experts was a huge relief, especially as we were totally inexperienced. We're left with a much improved home and it was worth every penny. We would not hesitate to recommend High Five Construction to anyone.
High Five Construction
86 – 90 Paul St,
London,
EC2A 4NE